FCRA and Screen Sharing for Customer Support: How to Balance Compliance and Efficiency
The type and level of service you can give customers are crucial to success and can improve when utilizing visual engagement. Technological advancement has made it much easier for businesses to enhance customer interactions. New technologies also make it possible for companies to improve their customer service.
There are plenty of benefits to using screen sharing. It can enhance the companies' customer service help. In this article, you will learn more about the roles of FCRA attorneys and see how they ensure compliance to screen sharing for customer service.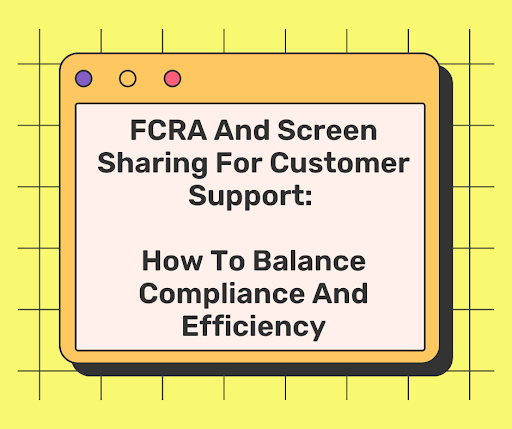 Screen sharing has become an essential tool for customer support representatives to provide efficient and effective support to their customers. Screen sharing allows support reps to visually guide their customers through troubleshooting steps, demonstrate product features, and provide real-time assistance. In this blog, we will discuss the benefits of screen sharing for customer support and how it can improve the customer experience.
Shortcuts:
FCRA and Their Roles in Screen Sharing Compliance
FCRA lawyers are experts in the law. They play a massive role in ensuring businesses and organizations follow the FCRA rules. These include compliance using screen sharing for customer service. The attorneys can give legal advice on the best practices and compliance requirements. This way, they can avoid legal repercussions for not following the FCRA rules.
Listed below are ways in which FCRA attorneys can help ensure a balance in compliance and efficiency especially when it comes to screen sharing for customer service:
Draft Legal Agreements
Drafting legal agreements for the company is a role of a lawyer. FCRA attorney at law can draft contracts and agreements with third-party screen-sharing service providers. The contracts protect a company against unwanted lawsuits. This also ensures that all the processes involved follow the FCRA rules.
Review and Update Customer Service Policies
An FCRA attorney's legal services are vital for every business. They can ensure that your company aligns with the Fair Credit Reporting Act (FCRA). They can look into your company's policies and also review policies related to screen-sharing for customer support. The attorneys can then give suggestions for any needed changes.
Do Regular Audits for FCRA Compliance
FCRA attorneys will perform compliance audits for your company to ensure your company's customer service activities follow FCRA rules and guidelines. This includes checking and reviewing documents and data on customer interactions. If there are any errors, you can request for data under the right to accurate information on your credit report.
Provide Legal Advice for Compliance
Lawyers that specialize in FCRA law can provide legal advice when it comes to compliance issues. They can discuss lowering the risks involved when the company is not FCRA-compliant. They also assist in the companies' FCRA claims and credit report disputes.
The legal services of FCRA attorneys are vital. They ensure that companies and organizations lower the legal risks involved—especially those related to screen-sharing for customer service. They also help in keeping the customers' personal information safe and secure.
The Importance of Screen Sharing for Customer Service
Customers remember every bit of help that a company provides them with. Moreover, they will share the type of experience they had with others. Companies must understand the importance of screen sharing to provide top-notch customer service.
Resolve Issues in Real-time
Customers care about how you can resolve their problems. A quick and easy yet efficient solution to their issues is vital. Screen sharing lets companies provide the help needed in real-time. Whilst using screen sharing, your agents can walk customers through a problem step by step. Doing so will make customers happy and satisfied.
Boost Customer Engagement
Most people learn and understand better if given instructions with audio and visuals. They are "visual learners" and screen sharing can help with the process.
Screen sharing makes it easier for staff and customers to interact to resolve issues. Customers will be able to follow the instructions with screen sharing. It is imperative to do so, especially when dealing with complicated matters.
Convenient Solution for Complex Issues
Screen sharing is a quick and convenient way to ensure customer satisfaction. It is an excellent way for your team to work with customers to solve complex technical problems. Agents can show clients the step-by-step process of how to solve a problem.
Improved Communication
Screen sharing allows support reps to visually communicate with customers, which is especially helpful for complex technical issues. Rather than relying on verbal explanations or written instructions, customers can see exactly what the support rep is referring to on their screen. This eliminates any confusion or misunderstandings and allows for a more efficient resolution to the problem. Moreover, support reps can also highlight specific areas of the screen to draw attention to important details or explain key concepts.
Faster Resolution
Screen sharing can significantly reduce the time it takes to resolve an issue. In a traditional support call, customers may spend a lot of time trying to explain the issue, and support reps may spend an equal amount of time trying to understand the issue. With screen sharing, support reps can quickly identify the problem and provide step-by-step guidance to resolve it. This saves both parties valuable time and leads to a more positive customer experience.
Improved Customer Satisfaction
By providing customers with visual guidance, support reps can create a more personalized and engaging experience. This can increase customer satisfaction and reduce the likelihood of customers becoming frustrated or giving up. Additionally, by resolving issues quickly and efficiently, customers are more likely to feel valued and appreciated by the company.
Increased Sales
Screen sharing can also be used as a sales tool. For example, if a customer is considering purchasing a product, a support rep can use screen sharing to provide a demonstration of the product's features and benefits. This can help to answer any questions the customer may have and provide them with a better understanding of the product. By doing so, the customer is more likely to make a purchase, and the company can increase sales.
Better Training
Screen sharing is also a great tool for training purposes. Whether it's training new employees or teaching existing ones about new product features, screen sharing can provide a more interactive and engaging experience. Support reps can walk employees through specific tasks and demonstrate how to use various software programs or tools. This can increase employee productivity and reduce the likelihood of mistakes or errors.
Screen Sharing: A Balance on Compliance and Efficiency
The Foreign Contribution Regulation Act (FCRA) asserts specific rules for companies and organizations. They lay out the regulations for screen sharing for customer service. Company staff can provide a safe and private solution to assist their customers through this.
There needs to be a balance in compliance and efficiency. Here are some suggestions that every company or organization should look into to ensure a balance between compliance and efficiency in screen sharing for customer support:
1. Use a Secure Screen Sharing Tool
To provide screen-sharing for customer support, you need a reliable tool. Consider the security and encryption of the screen-sharing application or tool. This way, your customer's private information is safe and secure, especially when it comes to their credit card information and other sensitive information. Look into the security features, such as access to record sessions and ensure that access to customer data is limited.
2. Provide FCRA Compliance Training.
You should have staff assigned to assist customers by phone or video. They should know about the Fair Credit Reporting Act (FCRA). They must know how important it is to keep customer information safe and private. Before letting them handle customers, ensure they receive proper training. It must include training on how to follow FCRA rules and regulations. An FCRA attorney can help companies do the training process per the law.
3. Customer Consent Is a Must
The support agent must ensure they have the customer's consent. The customer must be aware that they will be using screen sharing. They should also know that the agent can access their information. Explain the purpose of the screen-sharing session and also ensure that the customer understands that agents will access their data commonly used for consumer reporting.
4. Understand the Limits of What to Share
Your customer service staff must understand what can and can't be shared. During a screen-sharing session, the agent should know the limits and respect the privacy of consumers. Defining what is to be shared with the customer is a must. It reduces the chances of unnecessarily sharing sensitive data. The agent must only volunteer information related to the problem that needs fixing.
5. Document Customer Interactions
The agent must log every detail of their screen-sharing sessions with the customers. This will help the agent if any problems arise. Document any resolutions made for these issues. Doing so can help identify compliance risks and protect sensitive consumer information. The data will also be helpful when dealing with credit bureaus.
Conclusion
Customer support teams play a vital role in a company's success. Every customer has the right to efficient customer service at all times.
It is a must for every company or organization to provide assistance when needed. Nonetheless, businesses must know how to balance this. They must meet the client's needs and fix their issues whilst also following FCRA rules and regulations, and all the while offering customer support via screen sharing.
Screen sharing is a valuable tool for customer support representatives. It improves communication, leads to faster resolutions, increases customer satisfaction, and can even lead to increased sales. By incorporating screen sharing into their support strategy, companies can provide their customers with a more personalized and engaging experience, which can ultimately lead to a stronger brand reputation and customer loyalty.