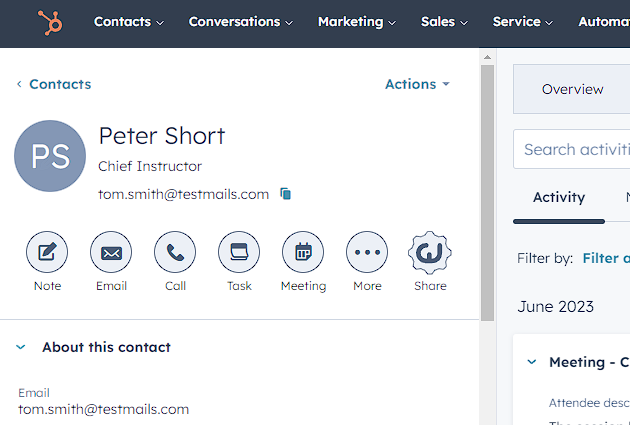 What is HubSpot?
HubSpot is a CRM platform that brings together everything you need, from software and integrations to valuable resources. It allows you to seamlessly connect your marketing, sales, content management and customer service efforts.
Why use the CrankWheel Integration with HubSpot?
The integration makes your sales calls run smoother by adding visuals to your calls. Contact info from HubSpot comes automatically to your CrankWheel extension and your interactions with your contacts using CrankWheel will be automatically entered into HubSpot.
What the CrankWheel integration allows you to do
CrankWheel allows you to share your screen with your contacts in just seconds. When sharing your screen, your contacts aren't prompted with tedious setup prompts or download permissions.
Launch CrankWheel from HubSpot
Get contact information from HubSpot pre-filled in the CrankWheel UI
Keep tabs on CrankWheel sessions with a contact on the contact's timeline in HubSpot
Feed links to recorded meetings to the contact's timeline
How to set up the CrankWheel integration with HubSpot
To learn how to set up the CrankWheel integration, please take a look at our HubSpot Integration Setup Guide for users and our HubSpot Integration Guide for admins.