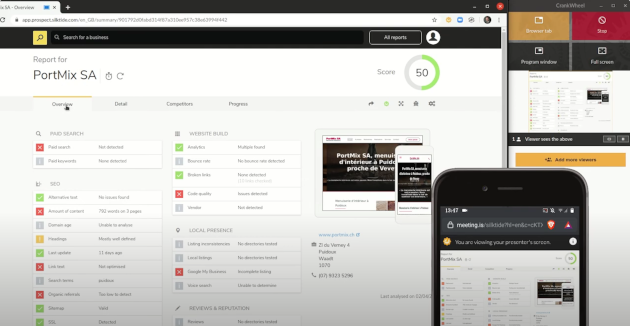 What is Insites?
Insites helps marketing agencies, local search companies, newspapers, telcos, and many others sell digital solutions more effectively to Small and Medium Enterprises.
Why use the CrankWheel Integration with Insites?
The integration makes your sales calls run smoother by adding visuals to your calls. Show reports from Insites in real time over the phone with CrankWheel.
What the CrankWheel integration allows you to do
With CrankWheel, you can share your screen with any device in just seconds. When entering a screen sharing session, your contacts aren't prompted with tedious setup prompts or download permissions.
Launch CrankWheel from Insites
Show reports in real-time during calls
View of reports is optimized for screen sharing
CTA widget that enables you to respond instantly to inbound leads
How to set up the CrankWheel integration with Insites
To learn how to set up the CrankWheel integration, please take a look at our Insites Integration Guide for users and our Insites Integration Guide for admins.