Out-of-the-Box Sales Strategies to Identify Your Ideal Customer
Let's get real. People are tired of sales pitches, ads, and promotional content, and many have lost trust in brands. The current economic landscape worsens things, causing consumers to think twice before buying a product or service. A recent survey found that 67% of Americans now spend less on movie tickets, clothes, jewelry and other non-essential items.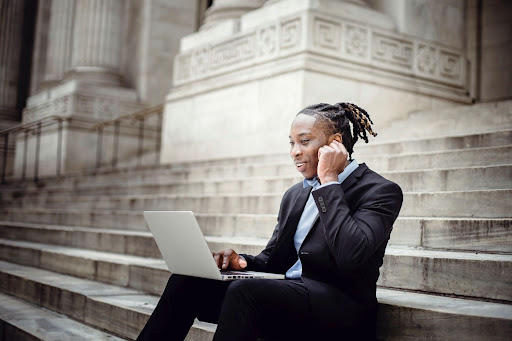 Image Credit: Pexels - Ketut Subiyanto
If you're a salesperson or startup founder, you may wonder how to find clients and get things moving.
Should you keep sending cold emails and calling prospects or focus your efforts on social media? Maybe you should try out a different approach to marketing and sales?
The answer depends on your niche, professional expertise, and long-term goals, among other aspects.
One thing is for sure: you can no longer rely on traditional sales and marketing tactics to generate revenue. The world is changing fast, and only those who adapt will survive.
Now is the time to think outside the box and level up your sales game. With some creativity and strategic planning, you'll be better able to generate leads and hit your quota.
Shortcuts:
Why Now Is the Time to Revamp Your Sales Process
You might do everything by the book as a salesperson and still need more results. And if that wasn't bad enough, you keep losing existing customers to competitors.
Sometimes the issue isn't what you do but rather what you don't do. For example, you may leave money on the table without realizing it. External factors, such as the current political climate and rising prices, don't improve things.
In one survey, nearly 60% of entrepreneurs said that inflation significantly impacts their businesses. Another study found one-third of small business owners have moved to a cheaper workspace, and 40% have reduced their marketing spend to cut costs.
Under these circumstances, staying positive and hoping for the best is hard. As an entrepreneur, you may also deal with inventory management changes, supply chain disruptions, and increased competition. Plus, consumer demand is slowing, making it difficult to grow your business.
Only some industries face these challenges, but if you're a startup or small business, you may need help to make ends meet.
After all, you're competing against hundreds or thousands of companies—and some have more experience and resources than you do.
On the positive side, there is always time to rethink your sales process. The key is highlighting your unique value proposition and building meaningful relationships with the target customers.
By doing so, you'll stay ahead of the curve and get the most out of your leads.
How to Think Outside the Box for Sales Success
Some of the most successful brands constantly reinvent themselves and how they do business, shaping the customer experience.
For example, General Motors delivers personalized brand messages for each market and customer group. The brand uses a mix of direct marketing, sales promotions, PR, advertising, and personal selling through dealerships to reach different demographics.
Starbucks leverages value-based selling, positioning its products as an integral part of the modern lifestyle. In addition, the company focuses on building a brand community that drives customer loyalty.
Netflix, Coca-Cola, Spotify, and other popular brands also took a creative approach to sales. They all put the customer experience at the core of the business and try out new strategies.
As a salesperson or entrepreneur, you can emulate their efforts on a smaller scale to generate leads.
Still trying to figure out where to start? Here are some out-of-the-box sales tactics to identify your best customers and keep them returning.
1. Look Beyond the Obvious to Find Sales Leads
Some salespeople attend trade shows, networking events, conferences, or seminars to meet potential clients and generate leads.
Others turn to social media or use business intelligence tools for this purpose. Another option is to ask current clients, colleagues, and industry contacts to refer you to potential customers.
Any of these strategies can be a good choice, but do you want to do what everyone else does? Why not think outside the box and take a different approach to lead generation?
For example, you could use online business directories and job search sites to identify potential B2B clients. The Better Business Bureau (BBB), Crunchbase, Wellfound (formerly AngelList), Indeed, Merchant Circle, and your local chamber of commerce are all excellent resources.
Take Crunchbase, for instance. First, scroll down to the bottom of the homepage, click Organizations or People, and filter the results by industry, funding, location, acquisitions, and other criteria. After that, look up the people or companies you're interested in and decide on the next steps.
Depending on your niche, you might also find leads on Quora, Reddit, Discord, Medium, or YouTube. Of course, online forums and Facebook groups can be a great choice, too.
2. Speak at Industry Events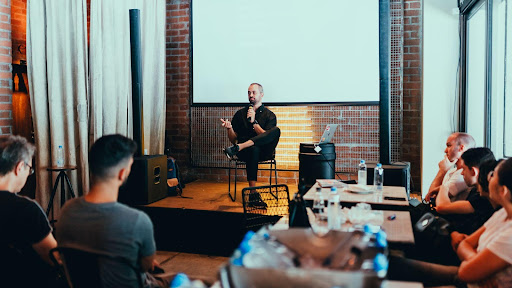 Image Credit: Pexels - Matheus Bertelli
Attending conferences and other events would allow you to connect with potential clients. But why not take it one step further and speak at such events? Consider it an opportunity to position yourself as an industry expert and get in front of your prospects.
Mary Kay Ash, Dale Carnegie, Zig Ziglar, Erica Feidner, and other successful salespeople all used this strategy. Of course, you may have less experience than they did, but everyone has to start somewhere. Plus, you can join a public speaking club like Toastmasters to hone your skills in this area.
By speaking at industry events, you can establish thought leadership and provide added value to potential customers. This approach also allows you to drive brand awareness and generate buzz around your products or services.
Moreover, you'll have the chance to address your customers' concerns and answer their questions without booking endless calls or one-on-one meetings. Over time, you'll also build relationships with other industry experts, which can create opportunities for partnerships, referrals, and sales.
3. Build Strategic Partnerships
At some point, you might wonder, "How have B2B sales changed over the past decade?" Sure, we now have artificial intelligence, machine learning, programmatic marketing, and other technologies that weren't available in the 2010s, but that's just one piece of the puzzle.
We are also witnessing many changes following the Covid-19 pandemic, the rise of B2B self-service experiences, and the shift to remote-first sales. These aspects are disrupting the sales industry, creating both opportunities and threats.
Now it's more important than ever to build connections with the right people. Having strong sales skills is no longer enough to achieve success.
Think of popular brands like Dyson, GE Appliances, BMW, and Adidas—they all work closely with other brands, product developers, and industry experts to remain competitive.
For example, GE Appliances joined Google Cloud to personalize the customer experience. This partnership allows them to develop smart appliances that work directly with Google Assistant, simplifying customers' lives.
As a sales rep or entrepreneur, you can use a similar approach to grow your reach.
First, you'll have to identify potential partners, such as companies or industry experts offering complementary products or services. Let's say you sell accounting software for small- and medium-sized businesses (SMBs). In this case, you could partner with the following:
Bookkeeping or accounting firms
Payroll processing companies
Business consultants
E-commerce platforms
Industry associations
For example, business consultants work closely with SMBs and could recommend your accounting program to their clients. As a salesperson, you'd tell your customers about their services and how they would benefit their business. It's a win-win for all parties involved.
However, building strategic partnerships is just the first step to more sales and leads. You must also nurture those relationships and work with your partners to elevate the customer experience.
4. Put on Your Creativity Cap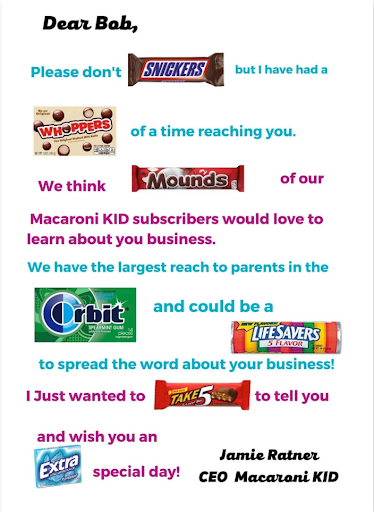 Image Credit: JamieRatner.com
Sales is a creative field, no matter what some may say. Sure, it requires business acumen and specific skills, but you must think outside the box to generate leads—and the studies confirm it. Salespeople with a creative mindset close more deals than their less creative counterparts, according to 2012 research published in the Journal of Organizational Behavior.
By comparison, groupthink kills good ideas, stalling innovation and business growth. We're not saying you should reinvent the wheel but rather approach the sales process from a unique perspective.
Back in 2014, startup founder Joe Garvey told Business Insider that 20% of his company's revenue came from strangers he met on the street. As it turns out, Garvey wandered the streets of San Francisco wearing brightly colored pants with unusual patterns. People stopped by to compliment his fashion choices, which allowed him to start conversations with strangers and generate leads.
On a similar note, entrepreneur Jamie Ratner recommends using comics, oversized posters, candy, or handwritten letters to boost sales.
For example, you can create comics about your products or services and send them to potential clients. Let your personality shine through, and use humor to make an impact.
5. Create Personalized Video Messages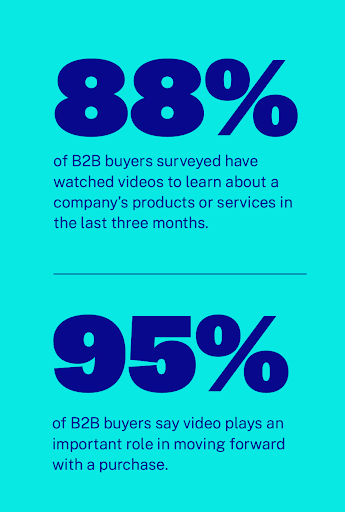 Image Credit: Brightcove
Ratner also suggests leaving voice messages for potential leads on LinkedIn. This strategy would allow both parties to communicate more efficiently without the hassle of cold calling. You can go one step further and create personalized video messages for different customer groups.
This strategy lets you speak directly to potential clients and build rapport quickly. Plus, 72% of consumers prefer video content over text when interacting with brands.
B2B companies love this approach, too. In a recent survey, 95% of B2B buyers agreed video content influences purchase decisions. In addition, nearly 60% said they preferred to watch videos to learn about a product or service, and about one-third watched videos to learn more about a company's leadership.
Video content allows salespeople to convey complex data, address business problems, and show their products in action. After all, it's easier to watch a 15-minute video than read a 10-page technical manual or exchange emails back and forth.
You should segment your audience (if you haven't already done it) and then create videos for each group based on where they are in their buying journey. These could include introduction videos, Q\&A videos, product demos, and more.
6. Roll out a Targeted Referral Program
More than 80% of B2B decision-makers start their buying journey through referrals. Additionally, referred customers are more loyal and bring higher profits than non-referred buyers.
Given these aspects, launching a referral program to drive sales makes sense. You might end up with many prospects who are not ready to buy. Meanwhile, you'd continue incentivizing existing customers with discounts, freebies, or other incentives for recommending your products and services.
The result? You could lose hundreds or thousands of dollars and waste valuable time.
One way to mitigate risks is to roll out a targeted referral program. With this approach, you'll incentivize your best customers to recommend your products. Instead of asking everyone for referrals, you'll only contact specific clients.
For example, if you're selling software to small businesses, launch a referral program targeted at accounting firms. They are likely to have a large number of small business clients who may be interested in your products or services.
This strategy can improve lead quality and client relationships while saving you time. Plus, it's an opportunity to reward loyal customers and get more bang for your buck.
7. Leverage AI and Machine Learning
Modern technology is a double-edged sword.
On the one hand, it can streamline the sales process and other business operations, resulting in higher revenue. But, on the other hand, it can reduce or eliminate the human factor, putting your customers off.
Take chatbots, for example. This technology can improve customer service and cut costs but it may also turn off buyers. Many customers don't feel comfortable chatting with a bot—and there are instances where they might prefer to talk to a real person.
But despite these drawbacks, you can still use artificial intelligence (AI), machine learning, and other modern technologies to your advantage. Let's see a few examples:
Leverage AI to automate follow-ups
Streamline repetitive tasks, such as lead scoring and data entry
Uncover market trends
Find patterns in consumer behavior
Analyze sales data and generate more accurate forecasts
Use AI to transcribe sales calls and help your team get better results
Gain meaningful insights from customer emails, social media messages, and website data
Analyze the market and your competitors
Streamline customer segmentation, sales team management, and lead generation
Let's say you're trying to email your prospects or clients, but they have not replied. You send a couple of follow-ups, but you still need to hear back. This issue occurs over and over again for no obvious reason.
One explanation is that some customers use disposable email addresses to keep their inboxes clutter-free. But what is a disposable email address in the first place? At the most basic level, it's an alias, throwaway, or forwarding account meant to reduce incoming spam.
Returning to the previous point, salespeople can use AI-powered tools to spot disposable email addresses and verify email lists. Again, it's a simple, effective way to save time and effort.
Plus, you can use these tools and an email tracker to monitor open rates, click-through rates, the number of downloads, and other metrics.
8. Build Trust Before Selling
Lastly, focus on building trust with potential customers before selling anything. Put yourself in their shoes—would you buy from someone you don't like or trust? Probably not.
Management consultant Philippe Rogiest says that most buyers have two main questions at their first point of contact with a vendor:
First, they want to know if they can trust the company and its leaders.
Second, they ask themselves if the company and its sales reps deserve their respect.
Rogiest notes that you don't have to be an industry leader to gain customers' trust. Instead, showing you understand their problems matters most and then offering a viable solution. We live in a digital age where sharing information is easier than ever. As a salesperson, you can leverage social media, webinars, podcasts, user-generated content, and social proof to establish trust.
For example, you could launch a course that addresses your customers' pain points. Alternatively, write a short eBook or white paper and give it away for free. Meanwhile, share meaningful insights on LinkedIn, Facebook, and other online platforms.
As your following grows, try to build a customer community. Start with a Facebook group and later transition to a professional platform like Thinkific, Tribe, or MemberDev.
This approach would allow you to better engage with potential and existing clients, host live events, share exclusive content, and upsell your products. Plus, you can position yourself as a thought leader and take your sales game to a new level.
Level up Your Sales Game
These are just a few strategies to get better clients and drive sales. Pick one or two, try them out, and adjust your approach. Consider your target market, where your customers spend their time, and what they expect from you.
Remember, there's no one-size-fits-all approach to marketing and sales. That's why you need to experiment and commit to continuous learning.
Feel free to break the rules and do things differently. Keep an open mind and create your own opportunities instead of waiting for them to knock at your door.