The Benefits of Implementing Digital Marketing Ideas in Local Businesses
Digital marketing was a craze in its early years. And it has remained popular to date because of its benefits to businesses in various industries. Digital marketing has numerous advantages. It has made it easier for big and small enterprises to thrive and expand.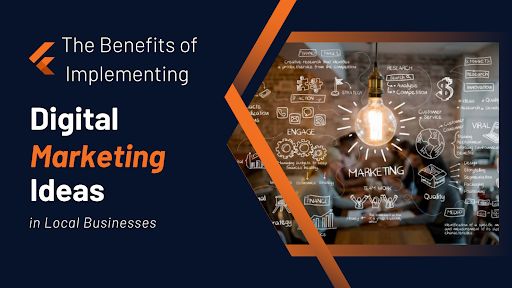 What Is Digital Marketing?
Digital marketing is the process of advertising products or services, raising brand awareness through digital media, and developing a tailored marketing strategy. Email marketing, affiliate marketing, paid social media channels, and so on are some typical methods digital marketers explore.
Digital marketing enables you to reach a broader audience and focus on customers most likely to purchase your goods and services. Furthermore, it is less expensive than traditional marketing.
You may also require a marketing agency for startups to assist you in focusing on your business while they handle all of your branding, lead generation, and growth hacking demands. Marketing companies take everything from campaign creation to data analysis—and that's just one of the many things they provide!
Why Digital Marketing Is Important for Local Businesses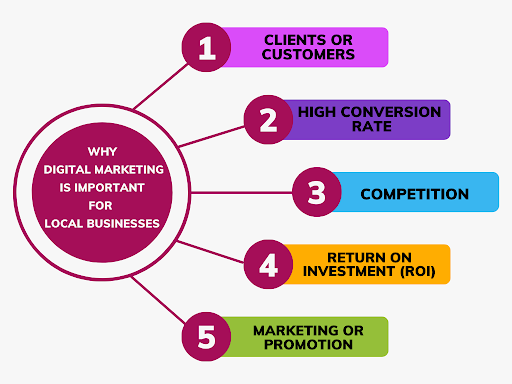 ——————————-
This time, we'll examine how to approach every area of your business in a digitally-driven environment. How can you benefit from digital marketing? 
1. Clients or Customers
More than half of your potential clients use their electronic devices to browse websites and access content online. Doesn't it make it the perfect venue to market your product? Potential clients should be able to view your company's website or social media presence from any of these devices. You risk losing these prospective clients if your website loads too long or is incompatible with specific devices.
The primary advantage of incorporating digital marketing for business is that your demographic is not confined to the area in which you are located. That is true not only for brick-and-mortar enterprises but also for firms without a physical address.
Within seconds, you can market your goods to any area of the world. All you need to do is keep in touch via social media, a website, or a business listing that contains your phone number, email address, or company address.
Small businesses can promote themselves via digital marketing without spending thousands of dollars on traditional marketing tactics such as hoardings, billboards, newspapers, TV ads, etc. Customer service and contact have also been significantly streamlined and simplified online.
2. High Conversion Rate
As a business owner, your first objective is to attract customers. It is essential to recognize that not all site visitors will become clients.
Your goal should be to persuade interested visitors to purchase from your company. The more visitors you may convert into buyers, the higher your conversion rate. There are several methods for accomplishing this, including digital advertising and retargeting ads. You can even provide discounted products.
Remember that only by appealing to buyers will your goods be in demand. If you have an enticing offer for them, your chances of making a sale will increase.
3. Competition 
Market research and analysis are crucial for any organization. This has become much easier to accomplish with so much information readily available online. Demand-wise, you can lose a customer if they find another company offering the same product or service at a significantly lower price. You may track your competitors' expansion and learn helpful information using several digital marketing tools.
4. Return on Investment (ROI) 
Investing in a business includes more than just the cost of bringing a product or service to market. It also comprises marketing, promotion, and distribution investments. While the traditional approach has always been famously expensive, switching to digital media allows you to reach the same amount of people for a fraction of the cost.
Digital marketing for businesses has exploded in popularity in recent years. On the other hand, the traditional approach continues to impact marketing significantly. If you divide your efforts wisely between digital and traditional marketing, you can maximize your ROI.
5. Marketing or Promotion
Small-business online marketing has always been challenging! Digital marketing lets you promote to millions of individuals globally instantly and cheaply using a variety of tools and platforms. Despite such a large audience, market segmentation is essential.
It's pointless to market to an uninterested audience. Marketing should target valuable customers.
Digital marketing can help you target and serve your audience. Your product can reach the correct audience using age, gender, geography, and other variables.
Benefits of Digital Marketing for Local Businesses
Worldwide Reach
Conventional marketing is limited by geography, making worldwide marketing difficult, expensive, and time-consuming. Digital marketing is online; thus, it has a vast reach. Online stores allow even modest local businesses to reach worldwide customers. Conventional marketing would never allow this, or it would cost a lot. Online accessibility gives businesses various growth options. Businesses benefit from worldwide reach and visibility.
Local Access
Digital marketing boosts local visibility, which is crucial for small businesses. Digital marketing can reach an entire neighborhood, unlike printed fliers. Local SEO and advertisements can help enterprises to get clients.
Reduced Cost
Digital marketing is cost-effective for local and global business promotion. It lets small firms use specialized methods to compete with larger ones—most of these free strategies (such as SEO, social media, and content marketing). Nevertheless, only some digital marketing is suitable for some businesses, and some may cost more. A company can choose the best options based on its marketing objectives.
Learnable
Even though there are many things to learn about digital marketing, getting started is relatively simple. The objectives and scope of the campaigns make it more difficult. But it's all about discovering the most effective business plan.
Successful Targeting
Digital marketing lets you analyze data to determine your target audience and optimize your strategy. Targeting can be done using keywords for search engine optimization (SEO), pay-per-click (PPC), or social media demographics. Every campaign reaches the correct audience with this massive targeting toolkit. It helps you track client behavior and adapt marketing. Any organization that can swiftly grasp client wants will succeed.
Several Strategies
Many businesses utilize different digital marketing methods. B2B companies who want foreign leads may have a different strategy than B2C local clothing companies. Conversion-based ads work better for some organizations than content marketing and SEO. Analyzing results and improving techniques are essential. An effective digital marketing strategy adjusts rapidly to corporate needs.
Here are some popular digital marketing methods:
SEO-based content creation 
Social paid ads
Forum engagement
Search engine marketing 
Video marketing 
Local search 
Social media marketing 
Email marketing 
Influencer marketing 
Remarketing 
Multi-Content Types
Digital marketing's variety of content kinds for brand promotion is another benefit. Several platforms offer various content formats to refresh your brand and create effective online campaigns. Unlike traditional marketing, you can easily reuse content across platforms.  
The following are some popular content types:
Podcasts
Visual content
Emailers
Blogs
Whitepapers
Infographics
Quizzes
Ebooks
Webinars
Social media posts
Increased Involvement
Digital marketing boosts engagement. Internet marketing is engaging by design. Share a blog post, like a photo, download a video, or click a paid ad. Best of all, these actions can be measured. You can make more engaging posts to promote brand exposure or sales. Engaging online builds customer loyalty. Fascinating formats help online businesses turn cold traffic into devoted consumers.
Analytics or Optimization
Web analytics allows real-time measurement of digital marketing activities. This optimizes future campaigns and fixes errors rapidly. Evaluating your digital marketing strategies lets you identify every traffic source and control your sales funnels.
Effective Marketing Strategies for Local Businesses
Search Engine Optimization (SEO)
The objective of search engine optimization (SEO) is to improve a company's ranking in Google search results, hence increasing search engine traffic to the company's website. To do this, SEO marketers conduct research on the keywords and phrases people use while searching for information online, and then include these terms into their own material.
Pay-Per-Click (PPC)
Pay-per-click refers to sponsored search engine results and paid ads. This is a short-term form of digital marketing, meaning that if you stop paying for the advertisement, it ceases to exist. Similar to SEO, PPC is a method for increasing online search traffic to a firm.
Pay-per-click can refer to the adverts that appear at the top and sides of a page of search results, the advertisements that appear while browsing the web, the advertisements that appear before YouTube videos, and the advertisements that appear in mobile apps.
When you create a pay-per-click campaign, you will also be able to specify whether you want your ad or promoted results to be displayed to users worldwide or only inside a certain geographic region. If you are marketing a brick-and-mortar business, the ability to customize by location prevents you from wasting ad revenue on individuals who do not live in close proximity to your shop.
Social Media Marketing
This encompasses everything a company does on social media. Although almost everyone is familiar with social media, marketers must tackle it in an integrated and planned manner. Social media marketing entails much more than merely posting to social channels and responding to comments.
For efforts to be effective, they must be organized and consistent, rather than an afterthought. There are various online tools available to automate and schedule social media postings to help keep messages consistent, but marketers should only use automation as a tool, not a "set it and forget it" solution. People will immediately figure out if there is no real person behind the posts.
Content Marketing
To raise brand awareness, content marketing uses narrative and information sharing. The ultimate objective is to persuade the reader to take a step in the direction of becoming a client, such as asking for more details, joining an email list, or completing a purchase. In addition to blog entries, "content" can also refer to podcasts, digital videos, white papers, and other resources. 
In general, it should put the needs of the customer first and foremost, rather than focusing solely on brand promotion or trying to close a deal. Instead of focusing solely on closing a single sale, content marketing aims to establish a long-lasting, trustworthy relationship with your audience.
Email Marketing
Despite the rise of social media, mobile applications, and other channels, email remains one of the most effective marketing tools. It can be used as part of a content marketing plan to provide value to consumers and eventually convert them into customers. 
Email marketing professionals not only know how to build attractive campaigns, but they also understand optimal audience outreach and are experienced at monitoring consumer interactions and data and making strategic decisions based on that data.
Mobile Marketing
This type of digital marketing is focused on contacting your target audience via their smartphone or tablet. Mobile marketing reaches individuals via text messaging, social media, websites, email, and mobile applications. Marketers can personalize offers or special content to a specific geographic area or time, such as when a customer goes into a store or attends an event.
Marketers understand that you must convey your message to where your customers are, and the evidence is clear: your potential customers are on their phones.
Marketing Analytics
One of the primary benefits of digital marketing is that it is extremely trackable and measurable. Coupons and similar direct mail offerings were once the sole trackable marketing materials. If a customer used the coupon, you knew the message was getting through.
Today, analytics allow marketers to watch user behavior in great detail: how many times they click on a link, how long they stay on a web page, how frequently they open emails, and so on. The tremendous amount of data accessible on digital marketing performance, on the other hand, can feel like sipping from a fire hose, and marketers must be able to properly understand what the data imply and how it should inform strategy.
Affiliate Marketing
With the rising significance of online marketing, affiliate marketing, also known as influencer marketing, has been popular among many firms in bridging the gap between customers and organizations. 
Affiliate marketing capitalizes on the growing popularity of industry experts and social media influencers. Working with these third-party influencers, your business will collaborate to market your products or services in exchange for payment. Influencers will collaborate to engage their audiences with posts, blogs, or videos to bring in more revenue and generate new leads for your organization.
Conclusion
The requirement for digital marketing has fundamentally altered how people operate organizations and tiny firms. It is quick, attractive, and easily accessible with a single button click. 
Effective marketing has always been connecting with the target audience at the appropriate time and place. Today, when consumer screen time is at an all-time high, the Internet is the perfect place to find them. Companies worldwide are capitalizing on this fact. They are adopting successful digital marketing methods to increase the likelihood that their marketing efforts will reach clients, resulting in considerable commercial rewards.
FAQs
1. Is digital marketing more beneficial for the future?
Digital marketing is the most cost-effective way to sell your items. With the rise of digitization over the last decade, digital marketing has become critical for any organization seeking to expand.
2. What is the distinction between B2B digital marketing and B2C digital marketing?
B2B is an abbreviation for business-to-business. This marketing term refers to businesses that offer their products or services to other firms. While B2C is an abbreviation for business-to-consumer. They are businesses that sell their products or services to individual consumers. While all aspects of digital marketing can be applied to both B2B and B2C businesses, the strategy will be different.
3. Which social media channels are best for digital marketing?
Although social media presence is essential for all businesses, each business will have unique social media requirements and tactics. Facebook may be the best business platform for some, while Instagram may be the best for others. To determine the best platform for your business, you must first identify your target audience and social media objectives.